During August 2022 Steve Harrison, Resapol's Northern Divisional Sales Manager, visited Resapol customer Sean Cullen in order to assist with recommending a waterproofing roofing system for the renovation of an existing structure into a modern bar and eatery located in Leigh, Greater Manchester. It was important to Sean that the system specified was easy to use & apply, cost-effective whilst coming from a manufacturer with a reputation of providing long lasting products within the sector.
Steve and the Resapol Leigh depot technical team immediately thought of Mapei as the perfect manufacturer for the intended project; Mapei offer a range of products and systems for waterproofing and protecting roofs and their extensive research and development sector is heavily committed to offering highly versatile products for all types of requirements. Their roofing products provide a guarantee of durability, quality and environmental sustainability for the constructions themselves, with each product undergoing rigorous testing in order to ensure they are of the best quality.
Their range of waterproofing membranes initially stood out to the Resapol team as they typically come as ready-to-use, rapid-drying products that are simple and quick to apply and suitable for use by anybody. They are often extremely versatile and designed to be ideal for numerous and different types of substrates, such as screeds and cementitious substrates, old flooring, bituminous membranes and metal.
Phil Graham, Mapei's Area Sales Manager, was contacted directly by Steve so that he could conduct a suitable project site visit in order to gather information on the intended job, allowing him recommend the most suitable system that conformed to all of the client's demands. After conducting the site visit, and after recommending various product systems, the client chose to go ahead with Mapei's Purtop Easy roofing system.
Purtop Easy is a one-component, elastic polyurethane membrane with a coloured finish typically utilised for waterproofing both new and existing balconies, terraces, roofs and areas with pedestrian access. It is highly elastic and durable and is just as easy to apply on horizontal and vertical surfaces whether using a brush, roller or trowel. Once applied, Purtop Easy guarantees substrates are completely waterproof at low temperatures and in the presence of free-standing water.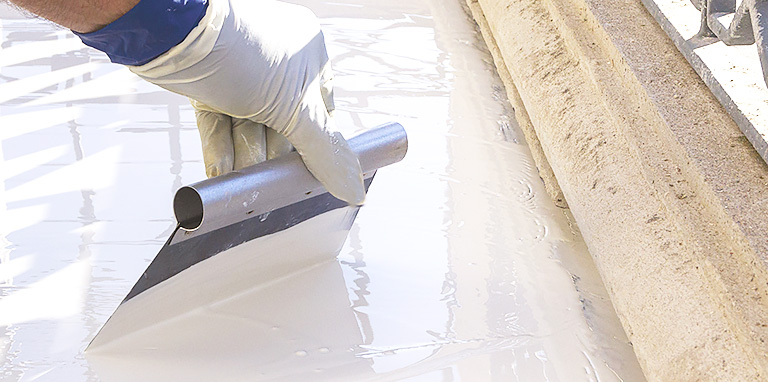 EXCELLENT ADHESION

VERSATILE APPLICATION
HIGH ELASTICITY
Once specified Phil also recommended a suitable contractor in Elite Construction & Property Services Group, a family-run builders company with a successful track record of providing a multitude and diverse range of property renovation services on time and within budget. Once approved, the delivery of Purtop Easy was quickly arranged directly to site through Resapol's Leigh local distribution centre with work commencing on 22nd August. Due to the easy application of the product, the project was successfully completed just three days later!