We are delighted to announce that the Southern Enterprise Awards have named Resapol as the Best Construction Chemical Supplier Company 2022. As the UK's trusted supplier of Construction Chemicals it makes us incredible proud to have won this award and have been recognised for our achievements, especially in the south of England. The Awards aim to highlight and reward the businesses and individuals who have shown true excellence, commitment and determination across the southern regions.
The construction industry relies on the expertise of specialists in the field, and the Southern Enterprise Awards 2022 team recognise Resapol for their incredible achievements; offering an extensive range through highly trained staff and distributing products efficiently nationwide. The award also recognises that Resapol is a business that is flourishing despite the many challenges that have faced the construction industry over the past few years.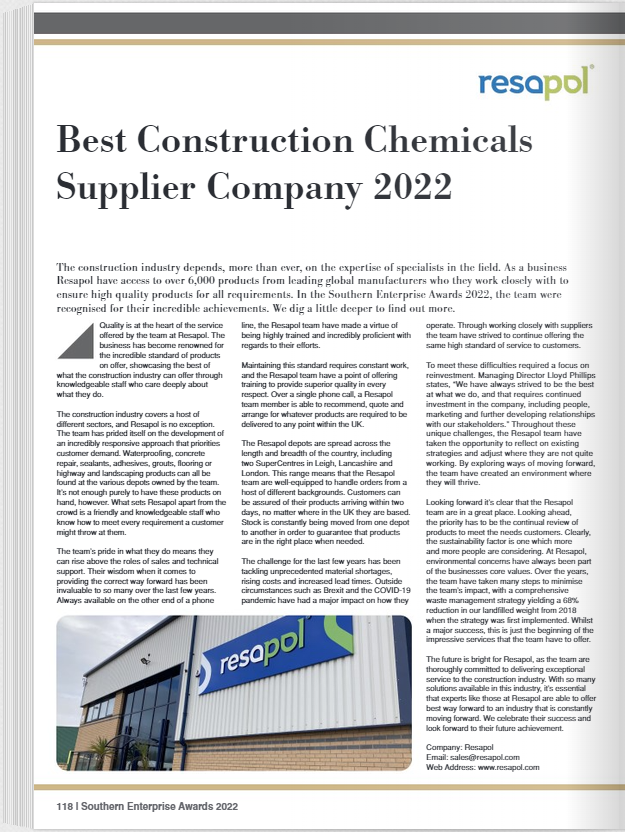 A copy of the supplement announcing the award winners, which includes Resapol, can be viewed by clicking here.
Awards Coordinator, Jessie Wilson, commented on the success of the winners in this supplement: "I am proud to present the Southern Enterprise Awards, and all of the businesses featured here. We wish them all the best for the future as they continue to alter the corporate landscape for the South of the UK."
SME News draws on their UK wide network of industry insiders to provide the latest news, cutting edge features and latest deals from across the UK SME landscape. Alongside their quarterly publication they also offer an easy-to-use website, newsletter, and a series of awards programmes.
Bought to you by AI Global Media, the international provider of corporate news and information, this unique magazine is the perfect resource for the CEOs, leaders and decision makers in the UK based SMEs looking to keep their finger on the pulse and stay ahead of the competition.
It is an honour for Resapol to have been chosen for this award which has also highlighted our dedication to sustainability and corporate social responsibility. Our sustainability policy ensures that these concerns are always part of the businesses core values which has seen the instigation of a hybrid / electric vehicle policy, a waste management system and the Resapol Foundation (the charitable arm of the business).
---