Since Resapol's inception we have made a commitment to sustainability and environmental concerns that are now a part of our core values. We recognise the impact we can have on the environment, as a business, and have taken many steps over the years in order to protect the natural world. Back In 2018 Resapol introduced a company wide initiative in order to streamline, simplify and introduce efficient methods of recycling to all of our depots. With waste being split into three separate categories these new methods have since helped Resapol to become more environmentally friendly, achieve environmental compliance, improve recycling performance and to control costs.
Paper accounts for 26% of the total waste in UK landfills and recycling paper creates 73% less air pollution than making new paper from raw materials; a huge resource of time and money is spent by the UK government disposing of paper-based waste each year.
---
---
An estimated 8 million tonnes of plastic waste enters the sea and an estimated 18 million tonnes of waste is sent to UK landfill sites each year. The waste we produce increases by about 3% every year, this means that in 25 years the amount of waste we produce will have doubled! Switzerland, the Netherlands, and Germany recycle around 60% of their waste, compared with the UK's current rate of around 45%. The UK government are similarly taking measures to improve rates of recycling and waste management by refreshing and renewing environmental policy. These measures support the commitment to double productivity and to eliminate avoidable waste, both by 2050.
The introduction of company-wide initiatives to discourage unnecessary printing have also been implemented whilst promoting the use of digital tools and methods as alternatives. The first step of this process involved supplying the company's warehouse and logistic staff with tablets, with pre installed software allow them to perform stock and safety checks without the use of any physical paper. The UK uses over 12.5 million tonnes of paper each year; this equates to a forest the size of Wales, this initiative has reduced our paper use by 16 reems p.a; this is now planned to be implemented for all internal stock takes which will effectively increase our paper reduction efforts further.
Our statistics below detail how much more efficient and streamlined our recycling has become since implementing our new company wide strategies in 2018. Landfill diversion refers to reusing, recycling or composting materials that would otherwise be buried in the landfill, the figures below detail our landfilled weight, our landfilled diversion weight alongside a percentage split between how much of our waste has been sent to landfill and the percentage that has been diverted – all separated by each of our company wide depots.
Last year saw a total of 97.14% of Resapol's waste diverted away from landfills, resulting in a massive total reduction of 68% in landfilled weight produced by Resapol from 2018 to 2021!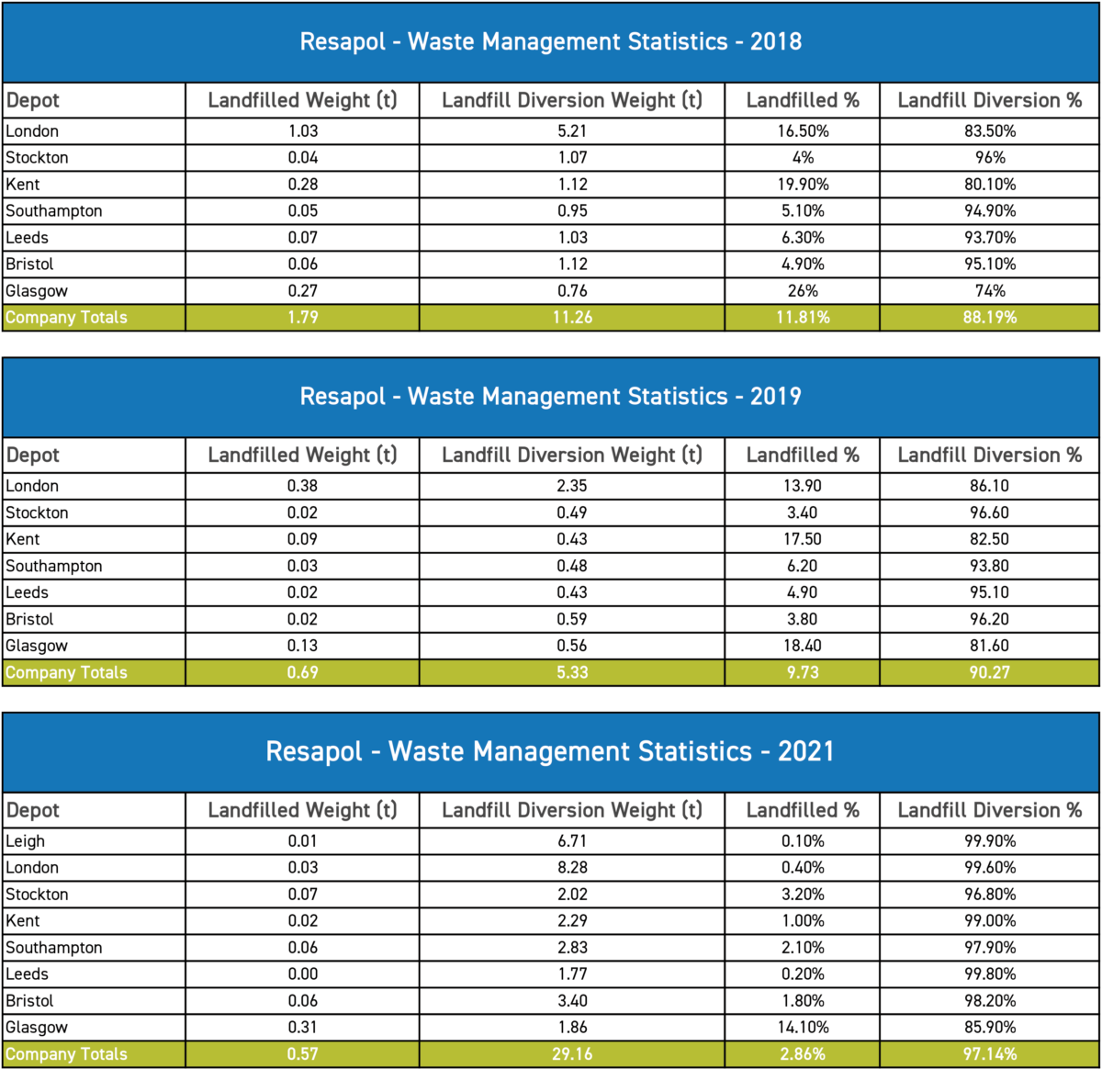 ---
---
At Resapol we endeavour to follow best practice with due regard to business needs, in line with the requirements of ISO 14001:2015. Our objectives to accomplish this are to continue to minimise waste by reduction, re-use and recycling methods in order to ensure we help to reduce the amount of avoidable waste being sent into the ocean and to UK landfill sites year on year.