The Resapol Foundation are incredibly pleased to support Resapol Southampton depot's nominated charity for 2023, Abby's Heroes, with a donation of £1000.
Set up in memory of Abby who passed away from Ewings Sarcoma, a rare type of bone cancer, in May 2016 at the age of 11. Her incredible spirit inspired the charity to comfort those who found themselves entering the paediatric oncology wards at the University Hospital of Southampton (UHS). Abby's Heroes aim to offer financial and practical help and most importantly, the opportunity to make lasting memories for the children, young adults and their families.
The charity was chosen by Southampton Branch Manager, Brian Turtle, who although has had no previous need to utilise the support of Abby's Heroes, was really touched by Abby's story about her fight with cancer: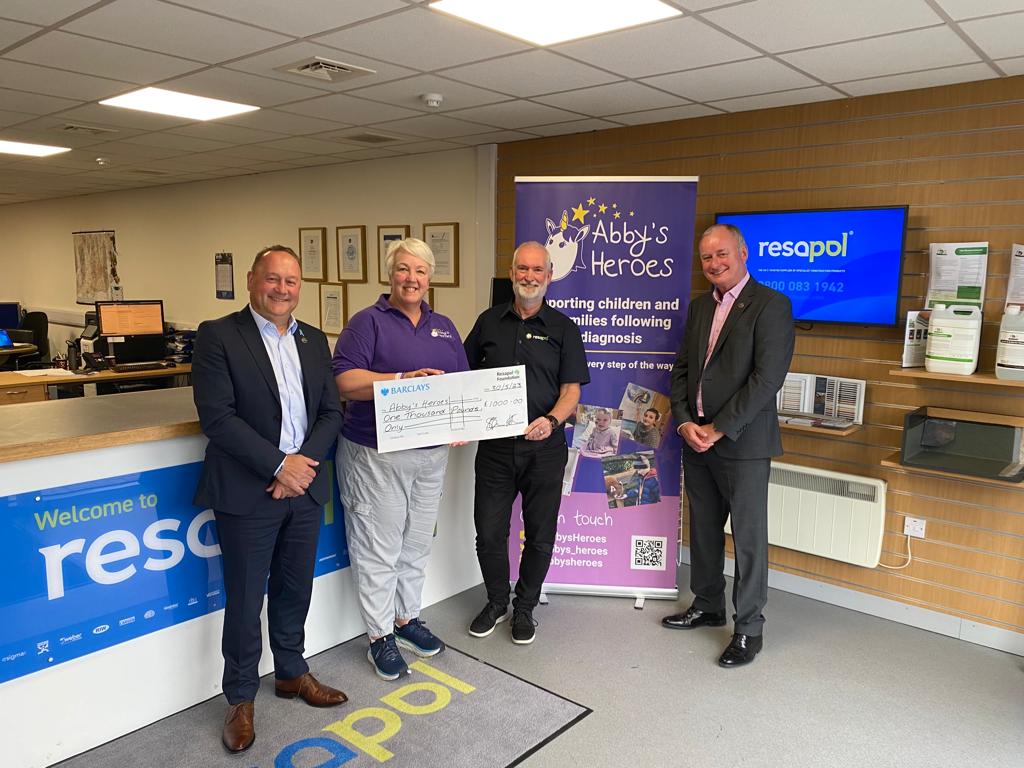 "Abby's story sounds so horrendous for a child to have to go through and the thought of so many more children and their families having to go through the same thing on a daily basis is just so sad. Hopefully our donation will make things slightly better for the children and families going through so much pain physically and mentally."

– Brian Turtle
Abby's Heroes understands the devastating impact that a cancer diagnosis can have on the physical, financial and emotional health and wellbeing of the whole family both during, after and beyond treatment. They have many ways in which they provide support including welfare packs, financial hardship grants, end of treatment awards, counselling services, weekly food deliveries, snack boxes and so much more. The charity supports those receiving cancer treatments at UHS, living in the Wessex region, up to the age of 24 at the time of diagnosis, and their wider family.
Sally Randall from Abby's Heroes had this to say about the donation:
"We are absolutely thrilled to receive such a wonderful donation from the Team at Resapol. We are a local Southampton based charity that supports families when their child has been diagnosed with cancer and treated at UHS. Thanks to your generosity, we will be able to fund 20 sessions with our panel of counsellors which is available to families at any point during their child's diagnosis or in the two years post treatment. Our sessions are open to mums and dads and the wider family, including grandparents, aunties and uncles, cousins etc who may need help dealing with the loss of a child or grieving for the child they once had. Thank you all so much."
The Resapol Foundation is incredibly proud to be able to support such a worthwhile cause that supports children and families on a long and difficult journey. For further information about the Resapol Foundation and its positive endeavours, please visit the Resapol Foundation webpage for more detailed information.