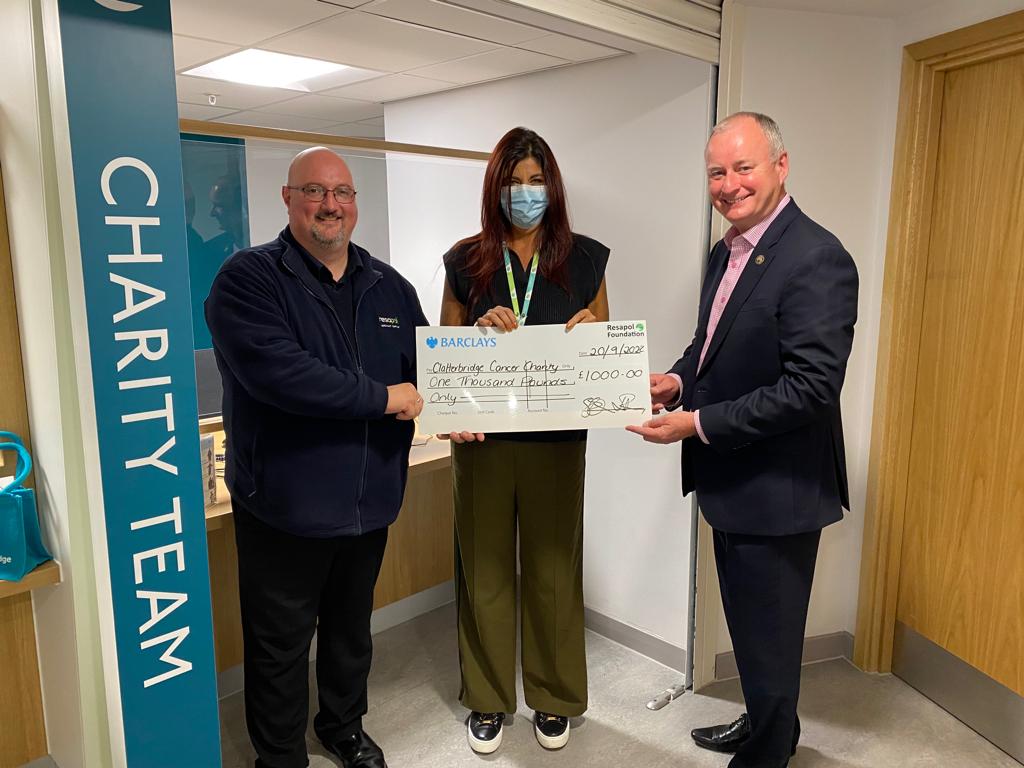 The Resapol Foundation was set up with the aim of making a positive and lasting difference to people's lives by awarding donations to individuals, communities, organisations and charities to assist them in the incredible work they do every single day. Each of the Resapol depots annually nominate an Ambassador who in turn nominates who to support.
Resapol Head Office Ambassador, Merchant Support Key Account Manager Simon Kirk, chose to nominate The Clatterbridge Cancer Charity for support by the Foundation. Simon chose the charity as he is experiencing first-hand the amazing work that everyone at the Clatterbridge Cancer Centre does, after his wife Chris was diagnosed with a grade 4 Glioblastoma in July 2021. They have since received nothing but exceptional support, not only from everyone at Clatterbridge Hospital in Birkenhead, but also at the Clatterbridge Centre in Liverpool where Chris has been receiving the majority of her treatments, as well as the Walton Centre where she underwent two vital operations on the brain.
Simon commented "It's hard really to put into words the amazing work they do, as it's their job to care for all cancer patients who come through their doors. But they seem to do it in such a way that you and your family are the only ones that they are there for, nothing is too much trouble for them. The support is not just for Chris either, they offer counselling sessions for me and the kids when needed, just so we can talk to someone, as they realise that it's not just the patient that cancer effects; it's the immediate family to. For all of their work and support, we will be forever grateful."
There are over 100,000 people living with cancer in Merseyside & Cheshire and the Clatterbridge Cancer Centre provides specialist cancer treatment for many of these people through its unique network of care across the region. Together with their supporters & volunteers The Clatterbridge Cancer Charity are passionate about the incredible care given to their patients. The Clatterbridge Cancer Charity is the only dedicated charity for patients and research at The Clatterbridge Cancer Centre. The main aims of the charity are to fund life-saving research, invest in leading technology, enhance the patient environment and enable innovations in care that make a real difference to the lives of those who need them.
On 27th September Simon, alongside Resapol founder and Managing Director Lloyd Phillips, visited the Clatterbridge Cancer Centre in order to present them with a cheque from the Resapol Foundation for £1,000. Thanks to donations such as this, provided by the charities supporters, Clatterbridge are able to achieve so much for the local people and families suffering with cancer, something not possible through NHS funding alone. Over the years, they have utilised donations in order to improve facilities, funded groundbreaking research and new therapy techniques that have helped to improve cancer care within the North-West.
---
"We're extremely grateful to Resapol for arranging this amazing gesture. Your help and support does make the biggest difference! By choosing to donate to the Charity, we are helping to fund pioneering research and new treatments that are vital services, that may not be available, through the NHS alone. The Charity is the only Cancer charity dedicated to support patients and their families, also research and staff at the Clatterbridge centres."

—Jayne Moran, Community Fundraising Manager
---