The Resapol Foundation was set up by the founders of Resapol and is the charitable arm of our business, it aims to make a positive and lasting difference to people's lives by awarding donations to individuals, communities, organisations and charities to assist them in the incredible work they do every single day.
The Leigh depot ambassador, Assistant Branch Manager Will Shaw, nominated The Bridge at Leigh to be supported by the Foundation. Will chose the charity as he has previously volunteered with them, working in the evenings to pick up food donations from their various suppliers. Will has seen first-hand the amazing work taking place in the community to support families most in need, their hard work, dedication and compassion has them supporting over 4,000 people who would otherwise struggle in the current economic environment.
The Bridge at Leigh is a non-profit registered charity with a Community Cafe and Food Market, their mission is to reduce food waste, food poverty and social isolation for communities local to Leigh. Tonnes of good food is wasted every year whilst people are struggling to afford to eat; The Bridge addresses these two issues by collecting food industry surplus which would otherwise go to waste. The food is sourced and cooked into lovely meals, which are served to anyone and everyone in the Community Café.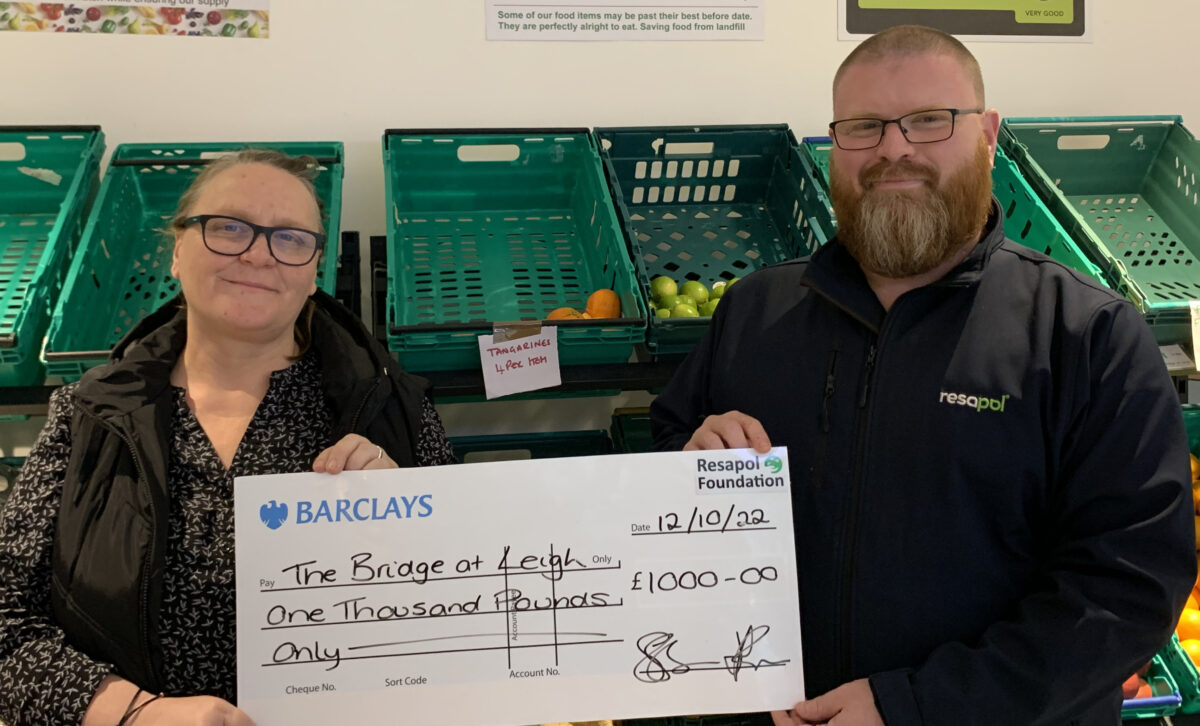 On 12th October Will Shaw visited The Bridge at Leigh, along with Resapol Financial Director Julie Gummersall to present a cheque from the Resapol Foundation for £1,000. The Bridge is a registered charity and as such relies on donations, such as the Foundations, to support their community work. These donations allow The Bridge at Leigh to continue with day-to-day operations as well as to support seasonal initiatives such as the Christmas food hamper. Each year, The Bridge looks to provide food hampers at Christmas time directly to local families who would otherwise struggle to provide food for the family over the festive period. Donations, such as from the Resapol Foundation, will go directly towards this initiative helping to increase the reach of the provision over this period.
---
"Thank you so much for the donation. All donations go towards helping local families with affordable food. We currently have 4,000 members who shop with us that's 4,000 families in need of our help, and that number is growing all the time. We source food from all over the country so we do have lots of expenses not just with buying food but running a warehouse for storage and our truck and vans. This year we are also asking our own members to nominate themselves for a gift for a child so that we can hopefully provide gifts for all families that apply."

— Catherine Roberts, Food Services Manager
---