The Resapol Foundation recently made a generous donation of £1000 to the Co-op Academy Failsworth Community Fridge in Failsworth. The charity was nominated by Resapol Leigh's Ambassador Roy Brooks who recognised the incredible work they do to tackle food poverty.
The Community Fridge is based at Failsworth Sports Campus and is staffed by the Academy's students. The Community Fridge is a place where anyone within the area, who are struggling to afford the basics, can come and get free food and hygiene products. They rely solely on donations from staff and students as well as from organisations like the Resapol Foundation.
Their commitment to the community is an exemplification of what the Foundation stands for, with the donation helping to keep the Failsworth Community Fridge well stocked and running so it can support even more people as demand grows. Roy nominated the Failsworth Community Fridge for a donation as it is somewhere that anybody can use not just those on benefits.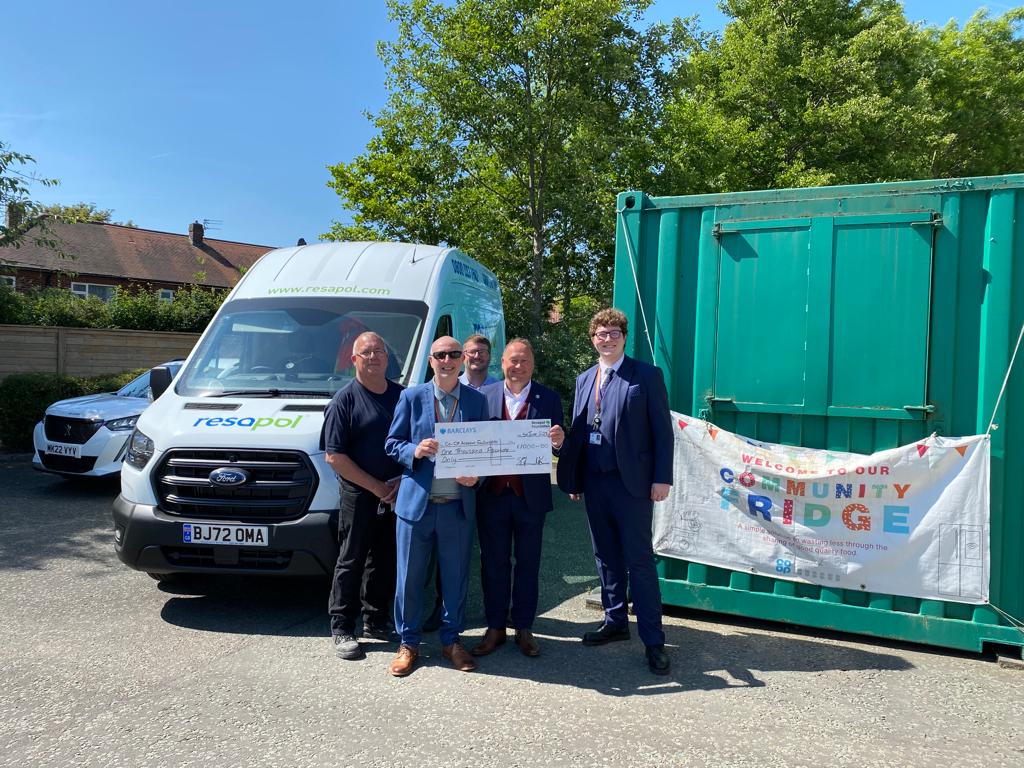 "I know that they are really struggling to cope with the demand for food and other products during these difficult times. The Community Fridge is a place where anyone can come and get free food/hygiene products who are struggling to afford the basics. What makes it so accessible is that people do not require any token or voucher or proof of income to use it. Anyone can donate and anyone can use the Community Fridge."

– Roy Brooks
On 5th June, Roy Brooks along with Resapol Co-Founder and Director Sean Ofsarnie visited the Community Fridge to see the great work they do and present them with a £1000 cheque from the Resapol Foundation.
---

"We are so grateful to the Resapol Foundation for their very kind and generous donation. Their money will go towards supporting the families that really need it through purchasing stock which will keep us going for a long time. At the moment, we are supporting around 40 families per week with food and hygiene products and this will help us tremendously. We cannot thank Resapol enough for their generosity and support."

— Jack Ryan, Community Engagement Officer
---
For further information about the Resapol Foundation and its positive endeavours, please visit the Resapol Foundation webpage for more detailed information.